Pink French Bedroom For A Little Girl
Pink French Bedroom – The Rug
This is a super cute pink rug that is also inexpensive
Pink French Bedroom – The Curtains
To go with the rug, you could get these absolutely gorgeous French damask curtains.
I am so in love with these pink panels that I'm planning to get them for my pink kitchen.
I already own the cream lace net curtains,also on the picture below, and they look absolutely stunning in my bedroom!
So that is rug and curtains sorted, let's move on to a bed, shall we?
Pink French Bedroom – The Bed
What about this delightful French bed for your precious little princess, which can be purchased on its own,or as a very cost effective complete set of 5 pieces of bedroom furniture consisting of bed, two 3 drawer bedside tables, 5 drawer chest and large double wardrobe. For dimensions please visit the website here. The price is extremely good value as compared to other suppliers of similar furniture.
The set also comes in champagne colour as well:
Bed in French bedroom is often a four poster or is adorned with a crown, bed canopy or half tester. For that extra special look,why not get a simple and lovely bed canopy, like this one:
For bedding for your French style bedroom, again I am going to suggest you something I already bought, tested and adore,and this is it: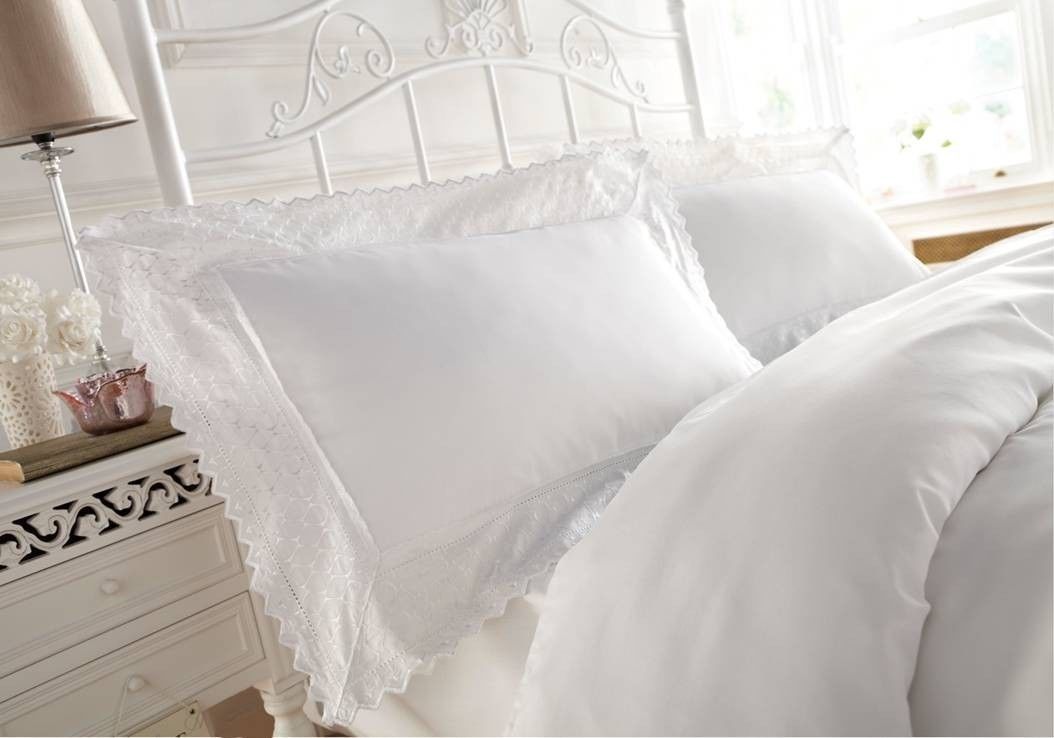 The quality is amazing, and the design is so pretty. In fact, there are 3 designs of the lace you can choose from, the one above is the one I have, and it's gorgeous. This set also comes in cream,as well as in white.
I was never buying white bedding before, but this gives such a clean, fresh and hotel like feeling, that I am a white-bedding-convert,so to speak.  I love getting under my white duvet. It reminds me of a Parisian hotel we stayed in last summer, and also brings on some childhood memories,as my mum used good quality white bedding as well,as we were kids. I am pretty sure she still owns all of it till this day, at it probably still looks great after 30 years. White bedding will never go out of fashion, it will never date, and it is great, as you can bleach any stains that may happen without any fear of ruining the colour of the bedding.
When it comes to a lighting in a French style nothing, of course, can compare to a chandelier.
Moving on to a bedspread. You can go white,off-white or cream here, depending on other choices you did earlier with furniture and wall colour.  Here is a lovely French bedspread that I'm in love with right now:
Some adorable throw pillows, or cushions how we call them in the UK. I just adore these ones:
And this cotton pink cushion with white lace is absolutely perfect too for your French themed bedroom:
And so is this pink embroidered boudoir cushion finished off with ruffle edge
Pink French Bedroom – The Bedside Tables
If you are feeling a bit more adventurous and have enough clothes storage for your little girl, you could swap the bedside tables with any round tables, that are high enough, and not too big ( most dining tables, for example, will be too big ). Tables are often used to recreate a French bedroom feel. They do not have to be cream,or white or pretty because we are going to cover them with floor length tablecloths and table overlays like these ones:
I just absolutely adore this square tasseled table overlay above, and they do come in many shades too. If I didn't already have fabulous Chinese cabinets as bedside tables, I would have bought the red table overlays and white taffeta table cloths which you can see below.
Obviously, if your table is rather ugly, you will want some very long table cloth to put underneath the pink table cover, it could be white linen or taffeta or something similar. I really like the look and texture of this white taffeta tablecloth:
You could still use the table as a storage solution, as your little ( or not so little daughter ) can hide a basket with her favourite books, dolls, hair tools or knitting tools underneath the table.
Pink French Bedroom – Decor
Fabulous chandelier
A French bedroom wouldn't be complete without a proper chandelier. I've found a fabulous one for this project. I've never seen anything like it before. It is simply stunning!
Beautiful Table Lamps
They aren't probably what you would call period looking, but we don't have to be exact, do we? For me anyway, it is more about creating a beautiful room with a nod to certain period, than limiting oneself to being totally exact.  They are beautiful, with gorgeous pale pink pleated lampshades and they will look great with the rest of the pieces that I selected for the pink French bedroom:
Add a finishing touch with a lovely smell that is safer than candles, and acts as a pretty room decor too: